Xmas Cup 2013 › Results › Day 4 › 30.12.2013
Day 1 Day 2 Day 3 Day 4 Overall Results New Year 500 km
Racing Task | Final Results | Maximum Points: 570 | Day Factor = 1.0000
| | | | | | | | | | | |
| --- | --- | --- | --- | --- | --- | --- | --- | --- | --- | --- |
| # | | PILOT | CN | RN | PLANE | DISTANCE | TIME | SPEED | PEN | SCORE |
| 1 | | Uwe Melzer | UWE | FUNFLY | ASG29 | 304.92 km | 01:55:29 | 158.4 km/h | 0 | 570 |
| 2 | | Helmut Kuenne | F9 | D-2318 | ASG29 | 304.92 km | 01:55:36 | 158.3 km/h | 0 | 569 |
| 3 | | Soenke Neumann | SN | D-0815 | ASG29 | 304.92 km | 01:56:10 | 157.5 km/h | 0 | 565 |
| 4 | | Vladimier Sohr | XX1 | OK-ALF | Ventus2cx | 304.92 km | 01:56:19 | 157.3 km/h | 0 | 563 |
| 5 | | Oldrich Slavicek | O8 | OK-OLDS | ASG29 | 304.92 km | 01:56:33 | 157 km/h | 0 | 562 |
| 6 | | Arne-Martin Guettler | AXM | LN-GOD | LS10 | 304.92 km | 01:57:23 | 155.9 km/h | 0 | 555 |
| 7 | | David Mach | VPD | OK-8145 | ASG29 | 304.92 km | 01:57:44 | 155.4 km/h | 0 | 552 |
| 8 | | Frank Paynter | TA1 | N62TW | Ventus2cx | 304.91 km | 01:58:37 | 154.2 km/h | 0 | 546 |
| 9 | | Roberto Ferretto | RF | ROBYFLY | ASG29 | 304.92 km | 01:58:43 | 154.1 km/h | 0 | 545 |
| 10 | | Winfried Deppe | WD | D-2709 | ASG29 | 304.92 km | 01:58:54 | 153.9 km/h | 0 | 544 |
| 11 | | Fransois Seijffert | SOI | PH-5015 | ASG29 | 304.92 km | 02:00:22 | 152 km/h | 0 | 533 |
| 12 | | Anouar Air | 0O7 | MOROCCO | ASG29 | 304.92 km | 02:00:27 | 151.9 km/h | 0 | 532 |
| 13 | | Erwin deBruin | EDB | PH-1999 | ASG29 | 304.92 km | 02:03:28 | 148.2 km/h | 0 | 510 |
| 14 | | Jan Michalek | Y77 | JERRY | ASG29 | 304.92 km | 02:04:24 | 147.1 km/h | 0 | 504 |
| 15 | | Erik Praznovsky | EP | OM-1974 | ASG29 | 304.92 km | 02:04:33 | 146.9 km/h | 0 | 503 |
| 16 | | Sandor Laurinyecz | LS | HA-4483 | ASG29 | 304.92 km | 02:04:36 | 146.8 km/h | 0 | 503 |
| 17 | | Witold Rozak | WRW | SP-2323 | ASG29 | 304.92 km | 02:06:05 | 145.1 km/h | 0 | 492 |
| 18 | | Tom Holloran | TWH | N220TH | ASG29 | 304.91 km | 02:06:12 | 145 km/h | 0 | 492 |
| 19 | | Bart Leysen | B9 | BL-EU27 | Ventus2cx | 304.9 km | 02:06:33 | 144.6 km/h | 0 | 489 |
| 20 | | Kresimir Hrastovec | KH | 9A-007 | ASG29 | 304.92 km | 02:06:41 | 144.4 km/h | 0 | 489 |
| 21 | | Harald Weber | 09X | D-4109 | Ventus2cx | 304.92 km | 02:07:32 | 143.4 km/h | 0 | 483 |
| 22 | | Pete Allen | PWA | G-1466 | ASG29 | 304.92 km | 02:07:52 | 143.1 km/h | 0 | 481 |
| 23 | | Diego Ardissone | A8X | I-ARDI | ASG29 | 304.92 km | 02:09:00 | 141.8 km/h | 0 | 473 |
| 24 | | Aleksey Chernov | AV7 | AIRMAN | ASG29 | 304.92 km | 02:08:31 | 142.4 km/h | 5 | 471 |
| 25 | | Laszlo Orsy | EJE | HU-EJE | ASG29 | 304.92 km | 02:09:52 | 140.9 km/h | 0 | 468 |
| 26 | | Jon Holland | 123 | G-RUSH | ASG29 | 304.92 km | 02:10:00 | 140.7 km/h | 0 | 467 |
| 27 | | Henryk Piekos | HPO | SP-3468 | Ventus2cx | 304.92 km | 02:10:15 | 140.4 km/h | 0 | 465 |
| 28 | | Radek Mica | RUM | OK-5417 | LS10 | 304.92 km | 02:10:15 | 140.4 km/h | 0 | 465 |
| 29 | | Sasa Mihajlovic | SM1 | 9A-GSM1 | ASG29 | 304.92 km | 02:11:04 | 139.6 km/h | 0 | 460 |
| 30 | | Krzysztof Wegierski | PUP | SP-1306 | ASG29 | 304.92 km | 02:12:39 | 137.9 km/h | 0 | 451 |
| 31 | | Zoran Okara | ZO | 9A-FFF | ASG29 | 304.92 km | 02:12:45 | 137.8 km/h | 0 | 450 |
| 32 | | Lars Zinnkann | LZN | D-1978 | LS10 | 304.92 km | 02:13:12 | 137.4 km/h | 0 | 447 |
| 33 | | Yuji Kataoka | 1EW | X-BIRD | ASG29 | 304.92 km | 02:13:36 | 136.9 km/h | 0 | 445 |
| 34 | | Jan Oorthuijsen | WW | PH-722 | Ventus2cx | 304.92 km | 02:14:10 | 136.4 km/h | 0 | 442 |
| 35 | | Slawek Wnuczek | SW | SP-1971 | ASG29 | 304.92 km | 02:14:19 | 136.2 km/h | 0 | 441 |
| 36 | | Daniel Schneider | NIM | D-KMIN | ASG29 | 304.92 km | 02:14:24 | 136.1 km/h | 0 | 440 |
| 37 | | Red Martin | RAM | EU-IRAM | Discus2c | 304.91 km | 02:21:35 | 129.2 km/h | 0 | 440 |
| 38 | | Jan Podolan | A22 | ANDEL | ASG29 | 304.92 km | 02:14:47 | 135.7 km/h | 0 | 438 |
| 39 | | Tom Bouctou | BIR | D-9876 | ASG29 | 304.92 km | 02:15:58 | 134.6 km/h | 0 | 431 |
| 40 | | Zbyszek Tkocz | ZBY | ZBYCH | ASG29 | 304.92 km | 02:16:55 | 133.6 km/h | 0 | 426 |
| 41 | | Jiri Adam | ADX | OK-0024 | ASG29 | 304.92 km | 02:17:12 | 133.3 km/h | 0 | 424 |
| 42 | | P Geza | GP9 | HA-PG | Ventus2cx | 304.92 km | 02:17:32 | 133 km/h | 0 | 422 |
| 43 | | Araldo vandeKraats | ARA | PH-ARA | ASG29 | 304.92 km | 02:17:49 | 132.7 km/h | 0 | 421 |
| 44 | | Lauri Kangas | VST | OH-1337 | Discus2c | 304.92 km | 02:25:13 | 126 km/h | 0 | 420 |
| 45 | | Michel Bonardel | BNL | MB-170 | LS10 | 304.92 km | 02:19:19 | 131.3 km/h | 0 | 412 |
| 46 | | Rafal Szczypka | RSA | SP-0037 | ASG29 | 304.92 km | 02:19:19 | 131.3 km/h | 0 | 412 |
| 47 | | Gj Phillips | GX | N12XM | ASG29 | 304.91 km | 02:19:51 | 130.8 km/h | 0 | 409 |
| 48 | | Mariusz Pacholczyk | MP1 | SP-1313 | Ventus2cx | 304.92 km | 02:18:39 | 131.9 km/h | 8 | 408 |
| 49 | | Wlodzimierz Kowalski | DB9 | SP-2964 | ASG29 | 304.92 km | 02:20:05 | 130.6 km/h | 0 | 408 |
| 50 | | Michal Szalek | 4MS | SP-7470 | Ventus2cx | 304.92 km | 02:20:51 | 129.9 km/h | 1 | 403 |
| 51 | | Mangirdas Juodinis | 07M | LY-MAN | Ventus2cx | 304.92 km | 02:21:15 | 129.5 km/h | 0 | 402 |
| 52 | | Mime Eric | J51 | ACT40 | Ventus2cx | 304.92 km | 02:21:38 | 129.2 km/h | 0 | 400 |
| 53 | | John Verschoor | 76 | PH-1176 | Ventus2cx | 304.92 km | 02:23:31 | 127.5 km/h | 1 | 389 |
| 54 | | Jordan Iliev | LZ2 | LZ-02 | ASG29 | 304.92 km | 02:23:51 | 127.2 km/h | 0 | 388 |
| 55 | | Naoki Takechi | NT3 | JA-CAC | ASG29 | 304.92 km | 02:24:14 | 126.8 km/h | 0 | 386 |
| 56 | | Jiri Nemecek | D32 | OK-6432 | ASG29 | 304.92 km | 02:24:47 | 126.3 km/h | 0 | 383 |
| 57 | | Josef Patocka | S3 | OK-3301 | ASW28-18 | 304.92 km | 02:33:01 | 119.6 km/h | 0 | 380 |
| 58 | | Mike Canfield | USA | SOBE | Ventus2cx | 304.91 km | 02:25:58 | 125.3 km/h | 0 | 377 |
| 59 | | Jiri Holub | JHO | OK-4408 | Ventus2cx | 304.92 km | 02:28:03 | 123.6 km/h | 0 | 367 |
| 60 | | Antonin Fischer | AFI | OK-1103 | ASG29 | 304.92 km | 02:30:42 | 121.4 km/h | 0 | 354 |
| 61 | | Rostislav Broz | YA | OK-6301 | Discus2c | 304.92 km | 02:42:44 | 112.4 km/h | 0 | 337 |
| 62 | | Eduardo Campolina | EWC | PLANABH | ASW28-18 | 304.92 km | 02:43:25 | 111.9 km/h | 0 | 334 |
| 63 | | Luis Saut | LHS | PT-LHS | Ventus2cx | 304.92 km | 02:38:52 | 115.2 km/h | 0 | 318 |
| 64 | | Michel Valade | VAM | F-CEVI | ASG29 | 304.92 km | 02:38:42 | 115.3 km/h | 2 | 317 |
| 65 | | Homa Brut | OPG | HOMA | ASG29 | 304.92 km | 02:45:56 | 110.2 km/h | 0 | 289 |
| 66 | | Ladislav Prusek | LP1 | OK-120 | Discus2c | 304.92 km | 03:07:04 | 97.8 km/h | 0 | 262 |
| 67 | | Marty Ray | 9SE | N9SE | Ventus2cx | 304.91 km | 03:30:47 | 86.8 km/h | 0 | 262 |
| 68 | | Miroslav Ladnak | MIL | OM-ORLE | Ventus2cx | 131.59 km | | | 0 | 108 |
| 69 | | Nuutti Luukkonen | NPL | OH-284 | ASG29 | 105.42 km | | | 0 | 86 |
| 70 | | Rudolf Kalousek | R1K | OK-7777 | Ventus2cx | 86.1 km | | | 0 | 70 |
| 71 | | Tamas Pentz | PT1 | HA-1961 | Ventus2cx | 18.08 km | | | 0 | 15 |
| 72 | | Adrien Henry | 19 | D-3948 | ASG29 | 304.9 km | 02:02:49 | 149 km/h | 0 | 0 |
| 73 | | Olivier Marechal | OLM | OO-OLM | ASG29 | 304.9 km | 02:18:40 | 131.9 km/h | 0 | 0 |
| 74 | | Marco Lambreta | MRW | PLANABH | LS8s | 304.9 km | 02:45:36 | 110.5 km/h | 0 | 0 |
| 75 | | Andre Lautert | LAU | PR-ZKE | Ventus2cx | 286.85 km | | | 2 | 0 |
| 76 | | MJN Aviator | MJN | N70MJN | ASG29 | 22.7 km | | | 0 | 0 |
| 77 | | John Mittell | BZ | N27BZ | ASG29 | 251.6 km | | | 0 | 0 |
| 78 | | Egon Jorgensen | X5 | OY-XKP | ASG29 | 109.51 km | | | 0 | 0 |
| 79 | | Marcin Domagala | MDC | SP-2125 | Ventus2cx | 103.51 km | | | 0 | 0 |
| 80 | | Jirka Krcmar | JIK | OK-7103 | Discus2c | 46.3 km | | | 0 | 0 |
| 81 | | Martin Grmela | GMD | OK-1405 | Ventus2cx | 40.34 km | | | 0 | 0 |
| 82 | | Horst Ziegler | HD | D-2803 | Ventus2cx | 36.9 km | | | 0 | 0 |
| 83 | | Libor Danhel | LD | OK-1009 | ASG29 | 7.7 km | | | 0 | 0 |
| 84 | | Piotr Pawluczuk | PPX | SE-PPX | Ventus2cx | 0.5 km | | | 0 | 0 |

Download IGC files (all pilots in one ZIP file) | Detailed results (mCR, mIAS, Detour%...)
Briefing › Day 4 › 30.12.2013 › 20:00 CET › Monday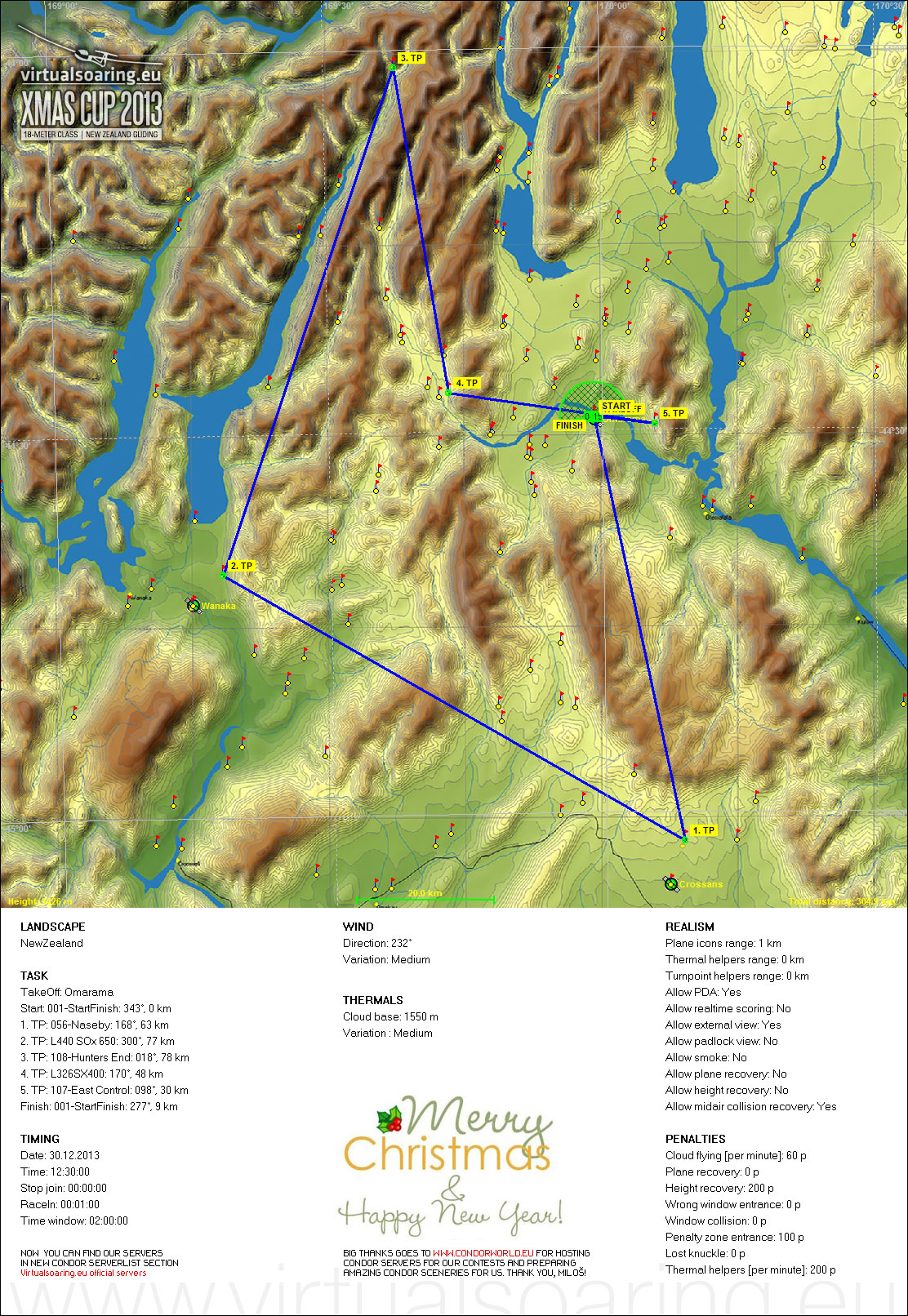 Server:Xmas Cup 2013
Password:
Date:30.12.2013
Time:20:00 CET (19:00 UTC)
Join time:30 min.
---
Landscape:New Zealand 0.8
Plane class:18-meter Class
Task type:Racing Task
Race-in time:1 min.
Time window:120 min.
Start time:12:30:00
Condor date:30.12.2013
Start altitude:max. 1500 m QNH
---
TakeOff:Omarama
Start:001-StartFinish
1. TP:056-Naseby
2. TP:L440 SOx 650
3. TP:108-Hunters End
4. TP:L326SX400
4. TP:107-East Control
Finish:001-StartFinish
Distance:305 km
---

Cloudflying not allowed! Circeling in the direction of climb is determined by the first glider in thermal. If you have doubts about the circeling direction, ask in the chat. Please fly safe, good luck to all pilots.
---

Download Flightplan (FPL file)
---
comments powered by

Disqus